Playwright Jim Cartwright plans 'theatre of head, heart and two fingers'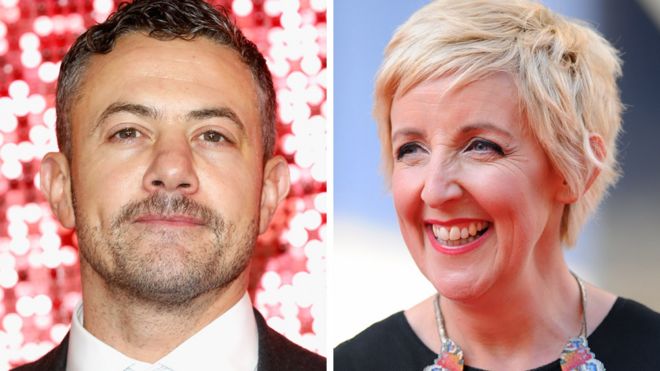 Warren Brown and Julie Hesmondhalgh will appear in the company's first performance
Jim Cartwright, writer of such plays as The Rise and Fall of Little Voice and Road, is forming his own theatre company, to be based at Salford University's new £55m arts centre.
The Jim Cartwright Theatre Company has pledged to showcase "the very best of current northern talent".
Luther's Warren Brown and Broadchurch's Julie Hesmondhalgh will help launch the company on 1 December.
Cartwright said he would stage "theatre of head, heart and two fingers".
The company will launch with Burning Bright, a performance of Cartwright's monologues read by Hesmondhalgh, Brown and other actors including The Royle Family's Sue Johnston and Coronation Street's Beverley Callard.
It will be the first performance in the 350-seat theatre in the university's New Adelphi building.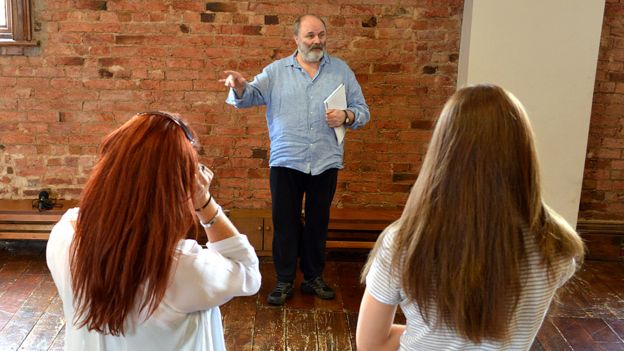 Cartwright also runs drama classes to bring through northern and working class talent
Peter Kay and his Car Share co-star Sian Gibson – who both went to the University of Salford – will officially open the building but won't perform.
In the spring, Cartwright's company will stage his new play Shakespeare's Mine, billed as the tale of a Lancashire coal miner's journey into the world of theatre.
His company will build on the success of drama classes he has set up in Chorley and Manchester to nurture more northern and working class talent.
'Time for change': Encouraging working class actors to rise again
"When I was starting out in theatre, there was a feeling that it was available to all if you had the talent and the rum gumption," he said.
"In these trying times it's important we continue to champion that opportunity – making sure theatre is opened up to as wide a group of people as possible.
"I want our new company to fizz and sing and ring with the excitement of that prospect."
The New Adelphi building will also house the university's arts, media and architecture courses.
The university's director of performance, Frances Piper, said she was "hugely excited" to be working with Cartwright and that having his company based there was "extremely significant".
She attributed this "not only [to] the wonderful opportunities it will provide for our students, but in terms of creating a hub for new northern writing and performance".